Team Building
---
---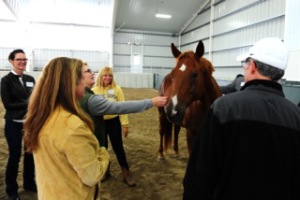 Our approach to building strong teams is uniquely different from similar courses or seminars you have attended in the past.  Here's why. The horses. Horses provide honest un-biased feedback to you as a leader and team member that you won't get from a classroom setting. With a horse you can't hide your true feelings, finesse your way through, bully your way around, or hope they will just do what you say because you are nice to them. Horses ask us to step up and be congruent, present, clear, and authentic leaders.
As prey animals wild, horses survival depended on good herd leaders and working together. They have a lot to teach us about leadership, clear and consistent communication, and how to be tuned in to your team at all times.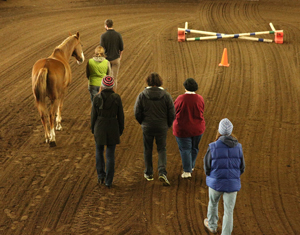 Most team-building and management/leadership seminars give you technical input on how to build a team.  What they don't deal with is the most important actor on stage: YOU and the other actors on your team.
It is one thing to learn team building, management and leadership techniques.  It is an entirely different thing to look inward and uncover how each individual contributes to the results that are NOT working and then how they can each contribute to results that DO.
Are you looking to build a team with members who…
Understand their strengths and how to use those strengths in working with others.
Own their weaknesses and work to minimize their impact on the team.
Understand where the team is going and how they, individually, can support the team getting there.
Share the same vision.
Understand how to integrate the abilities and skills each team member brings to the team.
Isn't worried about who gets the credit but that the goals are met.
Has passion and purpose.
Is creative, strategic, and focuses more on getting things done vs. creating drama in the workplace.
Approaches challenges with curiosity and creativity instead of frustration and negativity.
Has a high level of emotional intelligence, cooperation and collaborative abilities.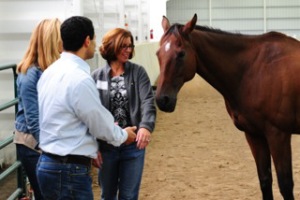 Progressive and successful leaders realize that creating a cooperative team attitude among employees is one of the key ingredients to increasing productivity.
When individual employees learn to work together and honor each other's contribution they are not only happier in their jobs, which translates into higher employee retention, but they also produce higher quality work and positively affect the financial performance of the company.
Our Executive Coaching with Horses programs focus on team building skill development. How to work with employees and managers to develop a true team spirit where everyone shares the same corporate vision and values and each employee learn to value and respect the contributions of others.
This is where we start.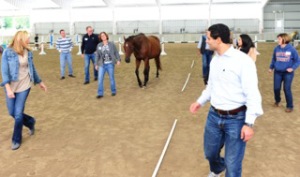 The first step is to contact us to discuss what you would like to accomplish. We will work with you to customize a curriculum for your team.  For more about building strong leaders, you may want to also look over
the menu of management and leadership development skills
. Once we have done that, we book dates.  It's that simple.  We encourage you to get started by calling Karen Kendrick at 212-300-7783 or
sending us an email
expressing your interest.